FY 2020 Honors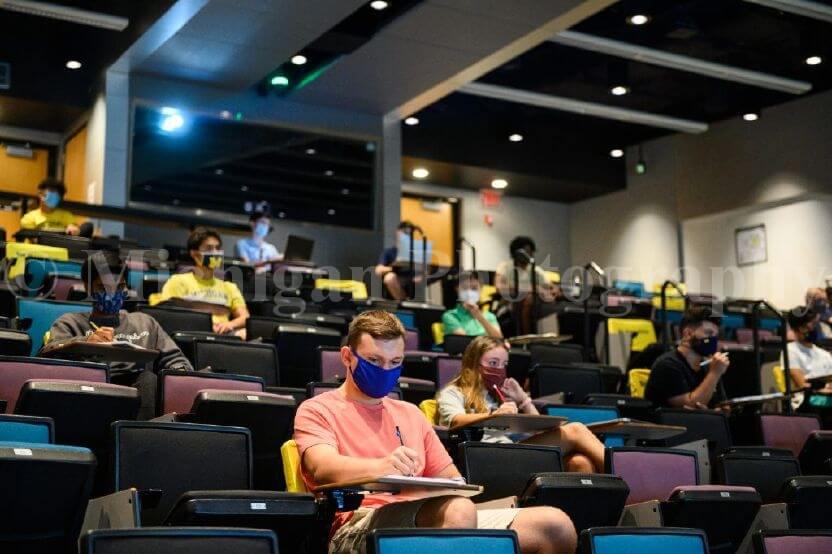 U-M biophysicist named Pew Scholar
U-M biophysicist Sarah Keane, the William Roush Assistant Professor of Chemistry and an assistant professor of biophysics, was one of 22 early-career researchers selected by the Pew Charitable Trust to join the Pew Scholars Program in the Biomedical Sciences, a community of more than 1,000 scientists.
Ford School faculty named Carnegie Fellows
Two faculty members from the U-M Gerald R. Ford School of Public Policy were chosen from hundreds of nominees as part of the prestigious Carnegie Fellows program. Susan Dynarski, a professor of public policy, will use the fellowship to broaden her research on reducing inequality in education. H. Luke Shaefer, professor of public policy, will use the award to build on his research in poverty and social welfare policy.
UM-Flint named gold-level veteran-friendly school for fifth straight year
The Michigan Veterans Affairs Agency named UM-Flint a gold-level school for the 2019–20 year. The gold ranking means the university has achieved at least six of seven program criteria for excellence in the services and support it provides to veterans and servicemembers.
Four inducted into National Academy of Sciences
Four U-M professors are among the most recent inductees into the National Academy of Sciences (NAS), one of the highest distinctions for a scientist or engineer in the United States. Awardees comprise: Joel Blum, a professor of earth and environmental sciences; Arul Chinnaiyan, the Hicks Endowed Professor of Pathology and professor of pathology and urology; Robert L. Griess, professor of mathematics; and Janet Smith, the Margaret J. Hunter Collegiate Professor in the Life Sciences Institute and professor of biological chemistry and biophysics. The newly elected NAS members bring the total number of active members to 2,403, and the total number of international members to 501.
Three from U-M elected to American Academy of Arts and Sciences
Three U-M faculty members were elected to the American Academy of Arts and Sciences. The fellows, all affiliated with the U-M College of Literature, Science, & the Arts, are Lorna Goodison, professor emerita of English language and literature, and Afroamerican and African studies; Anna Mapp, Edwin Vedejs Collegiate Professor of Chemistry; and Laura Ruetsche, professor of philosophy. The honorees are among 276 newly selected artists, scholars, scientists and leaders in the public, nonprofit and private sectors.
U-M faculty named Ecological Society of America fellows
Four U-M faculty members have been named as 2020 fellows of the Ecological Society of America, the world's largest community of professional ecologists. This year's honorees include 22 fellows and eight early career fellows. Newly elected U-M fellows include Knute Nadelhoffer, professor of ecology and evolutionary biology, and Donald Zak, professor of ecology and evolutionary biology. Newly elected U-M early career fellows include Nyeema Harris, assistant professor of ecology and evolutionary biology, and Jacob Allgeier, assistant professor of ecology and evolutionary biology.
Three U-M faculty awarded Guggenheim Fellowships
Three U-M scholars have received prestigious Guggenheim Fellowships for their distinguished achievement and exceptional promise for future accomplishment. This year's recipients are Sarah Buss, professor of philosophy; Susan Juster, professor of history; and Osman Khan, associate professor of art and design. Since its establishment in 1925, the foundation has granted more than $375 million in fellowships to more than 18,000 individuals, among whom are scores of Nobel laureates, Fields Medalists, poets laureate, members of the national academies, winners of the Pulitzer Prize, Turing Award, Bancroft Prize, National Book Award and other internationally recognized honors.
Two U-M faculty receive Sloan Fellowships
Two U-M researchers have been awarded 2020 Sloan Research Fellowships, part of a group of 126 early career researchers chosen by the Alfred P. Sloan Foundation. Awardees are Jenna Wiens, Morris Wellman Assistant Professor of Computer Science and Engineering, and assistant professor of electrical engineering and computer science; and Alex Wright, assistant professor of mathematics. Fellows from the 2020 cohort are drawn from a diverse range of more than 60 institutions across the United States and Canada, and receive a two-year, $75,000 fellowship that can be spent to advance the fellow's research.
Leung Tsang elected to the National Academy of Engineering
Leung Tsang, professor of electrical engineering and computer science, is among the latest class of researchers welcomed into the National Academy of Engineering (NAE) in recognition of his contributions to wave scattering and microwave remote sensing theories for satellite missions. A world-renowned expert in the field of theoretical and computational electromagnetics, Tsang is one of 106 new NAE members in the class of 2020. He also is a fellow of the Institute of Electrical and Electronics Engineers, the Optical Society of America and the Electromagnetics Academy.
Thirty-two U-M students and faculty receive Fulbright awards
Eleven faculty members from the U-M Ann Arbor, Dearborn and Flint campuses joined 21 students and young alumni in receiving Fulbright awards to fund overseas research or teaching during the 2019–20 academic year. The recipients, whose interests range from nuclear physics and linguistics to modern history and language arts, are chosen for their academic merit and leadership potential. The program is sponsored by the U.S. Department of State.
U-M Flint earns Carnegie Community Engagement Classification
UM-Flint has been selected by the Carnegie Foundation as one of 119 U.S. colleges and universities to receive the Carnegie Community Engagement Classification in 2020, an elective designation that indicates an institutional commitment to community engagement. UM-Flint is one of 75 institutions that were reclassified in the 2020 cycle. The Carnegie Community Engagement Classification has been the leading framework for institutional assessment and recognition of community engagement in U.S. higher education for the past 14 years.
Twenty-two scientists and engineers named 2019 AAAS fellows
U-M led the nation with 22 faculty members elected as 2019 fellows of the American Association for the Advancement of Science (AAAS) for scientifically or socially distinguished efforts to advance science or its applications. The U-M researchers are among 443 newly elected fellows announced in November by AAAS. U-M had more 2019 fellows than any other single university, according to AAAS.
Poverty Solutions director named special counselor for MDHSS
H. Luke Shaefer, director of Poverty Solutions at U-M and professor of social work and public policy, has been named special counselor to the director of the Michigan Department of Health and Human Services (MDHHS). For the next two years, Shaefer will work with the department's human services policy leadership teams on a set of anti-poverty and economic mobility initiatives to enhance public benefit programs and identify pathways for sustainable employment for those with major barriers to work.
Three U-M faculty elected to National Academy of Medicine
Three U-M professors were among 100 U.S. and international researchers elected in October to the National Academy of Medicine. They include Rebecca Cunningham, director of the Injury Prevention Center and professor of emergency medicine; James Dalton, former dean of the College of Pharmacy and professor of pharmaceutical sciences; and Gabriel Nuñez, professor of pathology. The trio join 53 other current and emeritus U-M faculty, and living former faculty, in the prestigious society.
Ecologist receives Packard Fellowship
U-M marine ecologist Jacob Allgeier, assistant professor of ecology and evolutionary biology, is among 22 early career scientists and engineers named as 2019 recipients of the Packard Fellowships for Science and Engineering by the David and Lucile Packard Foundation. He will receive $875,000 over five years to pursue his research.
U-M philosopher Elizabeth Anderson named 2019 MacArthur Fellow
Elizabeth Anderson, professor of philosophy and women's studies, whose research focuses on democratic theory and equality in political philosophy, was the recipient of a 2019 MacArthur Fellowship, also known as a "genius grant." The prestigious fellowship is a $625,000, no-strings-attached award given to extraordinarily talented and creative individuals as an investment in their potential.
U-M history professor Valeria Kivelson inducted into British Academy
Valerie Kivelson, professor of history and an expert on early modern Russia and European history, has been elected as one of 76 fellows to the British Academy, a leading institution for humanities and social sciences. The prestigious fellowship has recognized more than 1,400 of the leading academic minds worldwide for their achievements.
Five researchers win PECASE awards
Five U-M researchers have received the Presidential Early Career Award for Scientists and Engineers (PECASE), the highest honor the United States government bestows on scientists and engineers who are beginning their independent research careers. Established in 1996, the PECASE acknowledges the contributions scientists and engineers have made to the advancement of science, technology and mathematics education, and to community service as demonstrated through scientific leadership, public education and community outreach.
U-M ranked in top 10 for Peace Corps volunteers
The University of Michigan was ranked in the top 10 for large U.S. colleges and universities that produce Peace Corps volunteers — the only university from Michigan on the list for 2020. Overall, U-M ranks No. 4 all-time among top-producing schools on the Peace Corps list. Since the agency's founding in 1961, around 2,775 U-M alumni have served abroad as Peace Corps volunteers.