Campus celebrates reopened Union with fanfare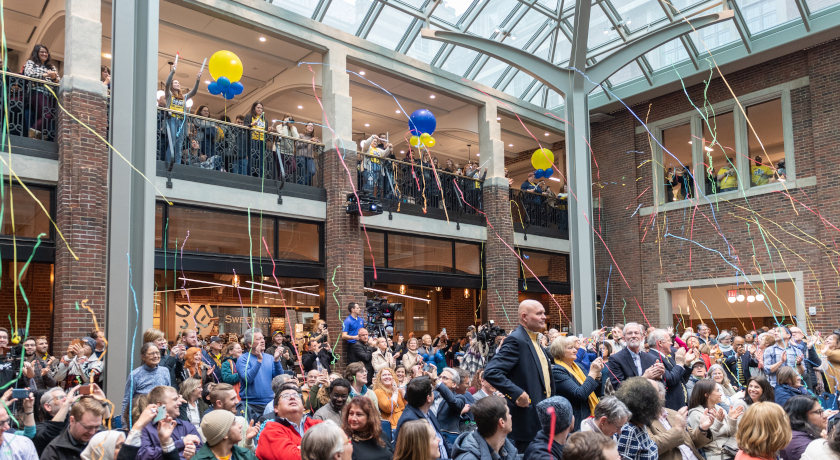 The historic Michigan Union reopened on January 13, 2020 after undergoing an $85 million renovation. The project included several energy efficiency upgrades, the creation of an IdeaHub for student organizations and the addition of a sprinkler system. The Union's 540 windows, some of which are a century old, were restored. The legendary building originally opened in 1919, and was expanded in the 1930s and 1950s. Today it is 250,000 square feet.
"The influence of the Michigan Union is unmatched in higher education," said President Mark Schlissel. "It housed military personnel before World War I and has been home for students protesting in the name of peace. John F. Kennedy famously proposed the Peace Corps on its steps, and it was the center of one of U-M's major missteps: the failure to freely allow women to enter until 1956."
The festive reopening event featured building tours, giveaways, balloons and streamers, food trucks and music by Michigan Marching Band members. Hundreds of students gathered outside the State Street and North entrances waiting for the doors to open. University and student leaders spoke at a noon ceremony in the courtyard, where a brass Block M is embedded in the floor and sunlight streams through a new 36-foot-high glass roof.
U.S. Rep. Debbie Dingell, D-Dearborn, was among the ceremony's attendees. "I really wanted to be here. I've been to so many events at the Union," she said. "It represents so many historical moments in our country's history. It's an important reopening of a tradition."