Chief Financial Officer's Report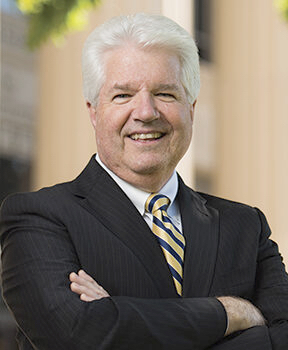 The University of Michigan has long been acknowledged as a worldwide leader in higher education. There are two major factors that serve as the long-term foundation for the university's continued success — our exceptionally strong financial position and the ongoing commitment of our 50,000+ employees who are keenly focused on the institution's missions of education, research and patient care.
In FY 2020, these critical elements — our financial strength and dedicated employees — enabled the university to navigate numerous challenges posed by the global COVID-19 pandemic, which began to significantly affect our operations in March. At the onset, U-M quickly established a comprehensive infrastructure to continuously assess all aspects of the pandemic, guide the university's response and safeguard its students, patients, employees and visitors. And our employees continue to work collaboratively to support U-M's core missions, respond to its evolving needs and priorities and ensure that the university remains on solid financial footing.
MAINTAINING A STRONG FINANCIAL POSITION
The university's financial position remains strong, despite the challenges posed by the COVID-19 pandemic. Our net position totaled $14.5 billion at June 30, 2020, a decrease of $277 million from the prior year, which reflects the impact of the initial stages of the pandemic.
While net investment income can be volatile from year to year, our endowment distribution policy and long-term investment strategy combine to insulate the university from this volatility and provide dependable annual support for operations. Our endowment distribution policy smooths the impact of volatile capital markets by providing for annual distributions of 4.5 percent of the seven-year moving average fair value of the endowment. This policy, along with the endowment's growth, allowed for distributions of $384 million to support university operations in FY 2020, for a total of $1.7 billion over the past five years.
Endowment funds, which are invested principally in the university's Long Term Portfolio, totaled $12.5 billion at June 30, 2020. Distributions from approximately 12,000 individual endowments provide ongoing and dependable support for a variety of academic, health-related and other needs across the university such as student scholarships, professorships, clinical operations and research.
The table below summarizes the investment performance of the university's Long Term Portfolio in relation to comparative benchmark portfolio returns.
INVESTMENT PERFORMANCE
| | Return for the 12-month period ended June 30, 2020 | Annualized 5-year return | Annualized 10-year return |
| --- | --- | --- | --- |
| Long Term Portfolio | 2.3% | 6.2% | 8.6% |
| U-M's Benchmark | 2.6% | 5.6% | 8.2% |
| Blended Passive Index | 1.4% | 5.6% | 7.9% |
The Long Term Portfolio's 10-year and 5-year annualized returns exceeded those of its custom U-M Benchmark and Blended Passive Index, while the 12-month return is slightly under its custom U-M Benchmark and exceeded the Blended Passive Index.  
The 12-month return of 2.3 percent reflects the effect of the global pandemic, which turned a strong economy into the weakest economy since the Great Depression. Companies in the new digital, stay-at-home economy and biotech showed strong gains, while companies in the traditional economy and natural resources-related investments recorded losses. 
With a 10-year annualized return of 8.6 percent, U-M's Long Term Portfolio is in the top quartile of performance relative to other college and university endowment investment portfolios.
DIVERSIFICATION IN REVENUE STREAMS
U-M has employed a revenue diversification strategy for years, which has allowed it to remain financially stable through various economic cycles and challenges — such as the one presented by the COVID-19 pandemic. That long-term strategy has also enabled the institution to avoid unnecessary dependence on student tuition and fee increases. The components of the university's sources of revenue are depicted in the following charts.
Funding for the university from the state of Michigan remains an integral source of financial support. In FY 2020, state educational appropriations decreased 11 percent to $331 million, which primarily reflected the impact of a $42 million rescission by the state due to the challenging economic circumstances resulting from the pandemic. To mitigate this impact, the state replaced the rescinded appropriations with federal coronavirus relief funds, which are expected to be recognized in FY 2021 in accordance with their underlying conditions.
We are extremely appreciative of the continued support of higher education and the University of Michigan by the residents of our state, particularly against the backdrop of the financial repercussions from the pandemic. The success of higher education is essential to the state's economic stability as it navigates the pandemic and beyond. 
The academic operating budget continues to balance academic excellence and investment in the future with student affordability and access. Tuition rate increases for FY 2020 were 1.9 percent for resident undergraduate students, 3.7 percent for nonresident undergraduate students and 3.2 percent for most graduate students on the Ann Arbor campus. Tuition rate increases for most resident undergraduate students on the Dearborn and Flint campuses were 3.2 and 5.0 percent, respectively. 
The FY 2020 budget also included an 11.2 percent increase in financial aid for undergraduates on the Ann Arbor campus, with 11.4 and 5.0 percent increases in institutionally-awarded financial aid on the Dearborn and Flint campuses, respectively. U-M has been able to limit tuition increases and provide generous financial aid due to ongoing growth in non-tuition revenues and a longstanding commitment to controlling costs and improving efficiencies throughout its operations.
The demand for a University of Michigan education continues to grow, with more than 80,000 applications — a record number — submitted from around the world for its three campuses. This marks the 13th consecutive year that applications have increased. The institution has had a stellar reputation around the globe for generations. That reputation, along with the outstanding value offered by U-M, make the university a top destination for exceptional students from Michigan, the United States and countries across the globe.
SERVING THE WORLD THROUGH RESEARCH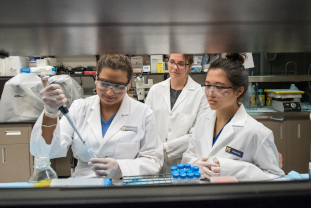 Innovative work by researchers across U-M continues to address emerging problems, create new technologies and drive the economy. The university's current research has led to advancements in critical areas ranging from firearm injury prevention and driverless vehicle technology to the rapidly changing COVID-19 pandemic. 
This type of research and scholarship relies on financial support and the federal government continues to play a critical role as a sponsor of U-M's research endeavors. Federally sponsored research expenditures totaled $887 million in FY 2020, $577 million of which came from the National Institutes of Health to support research that explores the cause, diagnosis, prevention and cure of human diseases, including the novel coronavirus.
COVID-19 transformed U-M research operations during FY 2020, temporarily pausing noncritical laboratory research and introducing new policies to protect employees' health and safety. It did not, however, affect the university's commitment to serving the world through research and scholarship, as faculty across disciplines worked together to find solutions to the global pandemic.
With expertise across disciplines and continuous support from internal and external partners, the university is well prepared to meet ongoing challenges in a world of rapid change and continue its contributions to the public good.
MICHIGAN MEDICINE STEPS UP TO BATTLE COVID-19 PANDEMIC
Michigan Medicine — which includes the University of Michigan Health System, University of Michigan Medical School, Michigan Health Corporation and UM Health — has long been a nationally recognized leader in advanced patient care, innovative research to improve human health and comprehensive education of physicians and medical scientists.  
This year's financial results reflect the unprecedented situation that COVID-19 presented to our health care system and community. In FY 2020, the University of Michigan Health System experienced a $74 million operating loss, after adjusting for the receipt of federal economic relief funds, on operating revenues of $4.2 billion.
As the pandemic surged in March and April 2020, Michigan Medicine stepped up to transform its operations, which included expanding ICU beds, accepting transfer patients from other institutions and taking new measures to keep our patients, families and employees safe. Given that Michigan Medicine had to abruptly cancel elective surgeries, procedures and services and devote operations to providing care for COVID-19 patients, revenues dropped significantly during this period. The resulting losses were partially offset by government assistance and expense reductions, along with efforts to reschedule delayed appointments, surgeries and procedures when safe to resume.
Through it all, we did what was necessary to ensure safe, quality care for all of our patients as we continue to manage the ongoing health care crisis.
A LOOK FORWARD
The university's extraordinary employees continue to be vigilant stewards of U-M's resources — financial and otherwise — and that stewardship was particularly beneficial to the institution in FY 2020 as we dealt with the onset of the pandemic. Their diligence, combined with U-M's focused and disciplined fiscal approach, has enabled the university to remain financially strong and well positioned for the future.  
An unyielding focus on fiscal discipline has allowed the university to realize over $405 million in recurrent general fund savings since FY 2004. As a result of this multi-year effort, U-M has been able to avoid reductions in major programs and ensure modest tuition increases in difficult economic periods. To help mitigate the impact of the pandemic, the university also instituted a variety of stabilization measures, including suspending nonessential expenditures, reducing leadership compensation and creating additional banks of emergency paid time off for employees.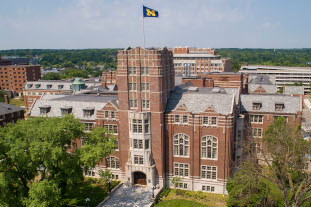 As part of our ongoing effort to maintain excellence in education, research and patient care as well as offer collaboration opportunities for multiple disciplines, U-M regularly makes important capital investments in a wide array of its facilities. In FY 2020 — prior to the start of the pandemic — the institution saw another remarkable year of construction and capital renewal. The Major Projects section offers an overview of the capital projects completed, in progress and in planning during FY 2020. The university always balances investments in new facilities against renewal of existing facilities, which allows us to avoid an excessive accumulation of deferred facility maintenance.
U-M's long-term debt again earned the highest possible credit ratings from S&P Global (AAA) and Moody's (Aaa) in FY 2020. The university has received these outstanding ratings for years and they demonstrate its continued financial strength. U-M is one of only seven public universities in the country to earn both of these exemplary ratings.
Please review Management's Discussion and Analysis (PDF) in conjunction with the audited financial statements. This section of the annual report provides additional details about U-M's financial strength, prudent financial policies and commitment to excellence. These factors — combined with the outstanding work done every day by our committed employees — enable U-M to safely and effectively meet evolving pandemic challenges and enrich the world in countless ways, ranging from research and the arts to education and patient care.
Sincerely,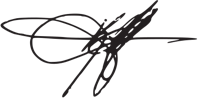 Kevin P. Hegarty
Executive Vice President and Chief Financial Officer