Students Respond to Community Needs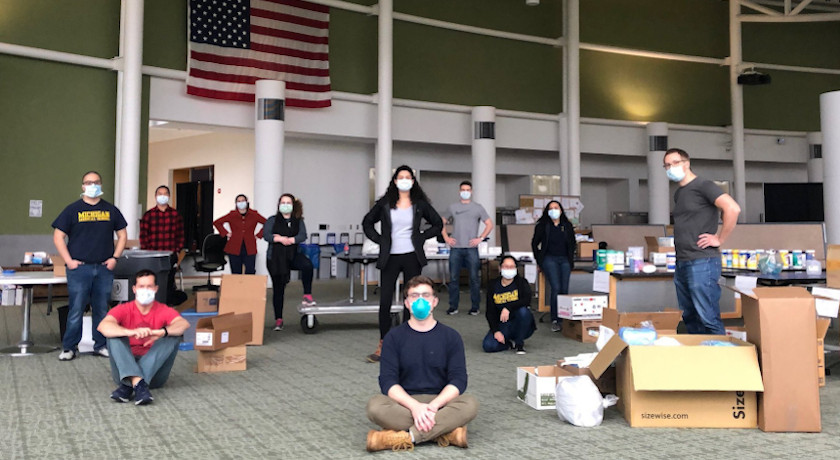 When the pandemic impacted their world, U-M students immediately wanted to make a difference — many volunteered, developed new ideas and took part in outreach projects.
M-Response Corps
From sorting donated personal protective equipment (PPE) at the North Campus Research Complex to delivering groceries to vulnerable populations to rescheduling patient appointments, U-M medical students in the quickly formed M-Response Corps worked tirelessly to meet an endless stream of pandemic-related needs.
Some volunteers provided child care for their fellow students, checked on geriatric patients by phone and rescheduled numerous patient appointments. While others helped obstetricians with virtual visits to pre- and postnatal patients, trained hospital staff on PPE protocol and answered COVID-19-related phone calls.
+Impact Studio for Local Business
With support from Michigan Ross, the Center on Finance, Law & Policy's Detroit Neighborhood Entrepreneurs Project (DNEP), the Ford School of Public Policy — and grant funding from the Ralph C. Wilson Jr. Foundation — +Impact Studio for Local Business (+ISLB) was created to help businesses in Detroit and Southeast Michigan respond and adapt to challenges caused by the COVID-19 pandemic and related shutdowns.
Thirty-seven U-M students from Michigan Ross and the Ford School spent eight weeks understanding the needs and concerns of three specific industries in Detroit (retail, restaurants and personal services) and developed resources to assist business owners in those industries.
In the earliest stages of the pandemic, DNEP teams of students helped business owners apply for grant and loan opportunities and prepare financial statements. +ISLB provided an opportunity for Ross and Ford students to create useful tools, guides and frameworks to help businesses navigate an uncertain future.
Citizen Interaction Design Program
Led by the School of Information, the Citizen Interaction Design program pairs students from across the university's school and colleges with civic leaders to work on enhancing community engagement. Students on nine teams worked on several challenges brought about by COVID-19.
The teams assisted cities and townships with how to conduct business during lockdown and after reopening — including implementing an automated email system to help city clerks notify voters when their absentee ballots were received. Teams also helped historic and cultural organizations re-engage audiences online, and encouraged people to get bank accounts so they could avoid predatory fees during the pandemic.
COVID-19 Campus Challenge
The U-M College of Engineering developed a COVID-19 Campus Challenge to support and showcase student ideas for new programs, efforts or technology that could be used on campus during the pandemic. Teams that included more than 600 students presented 89 proposals focused on different project categories including food insecurity; Diversity, Equity and Inclusion; co-curricular activities; mental health; housing; and transportation. Several projects from each category were chosen as finalists to be considered for implementation on the Ann Arbor campus.
Throughout the process, students had expert U-M mentors to support them. Teams with the most feasible projects were given the opportunity to share their solutions with administrators. Participants also had opportunities to provide feedback to U-M administrators after the challenge.